Discover more from Uncultured
Miss culture? Get Uncultured, your free ticket to pandemic entertainment. Get weekly news, interviews and Toronto culture tips in your inbox.
Ban Halloween? Not if kids have any say in the matter
Cancelling Halloween is like cancelling sunset. It's going to happen anyway, so we might as well find a way to make it safer.
Hello again! This week, I want to hear from you — what are you planning, if anything, for your pandemic Halloween? You can read my own take below or click here to skip directly to our separate discussion thread. The best response wins a super 😱spooky prize!
Now back to me. 😜
Have you felt it? There's a hidden terror on the streets this year.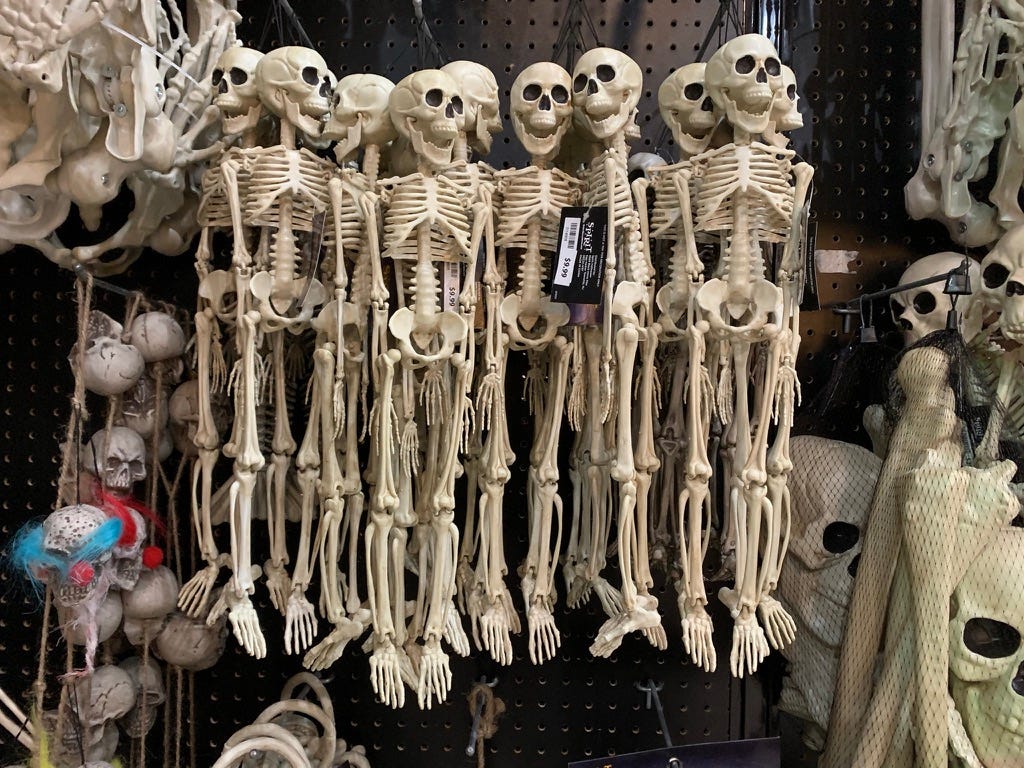 It's scarier than a plastic skeleton. Creepier than clowns covered in counterfeit cobwebs. Freakier, in fact, than any of the usual front-lawn displays of witchcraft, zombies, ghosts, rats, crows, graves and other Dollarama-grade decorations.
What could be scarier? The distinct lack of all of the above.
Where are the foam tombstones engraved with ghastly puns like "Here lies Rigg R. Mortice?" Where are the oversized tarantulas?
Halloween hasn't actually been cancelled — yet — but it seems we've resigned ourselves to that likelihood anyway.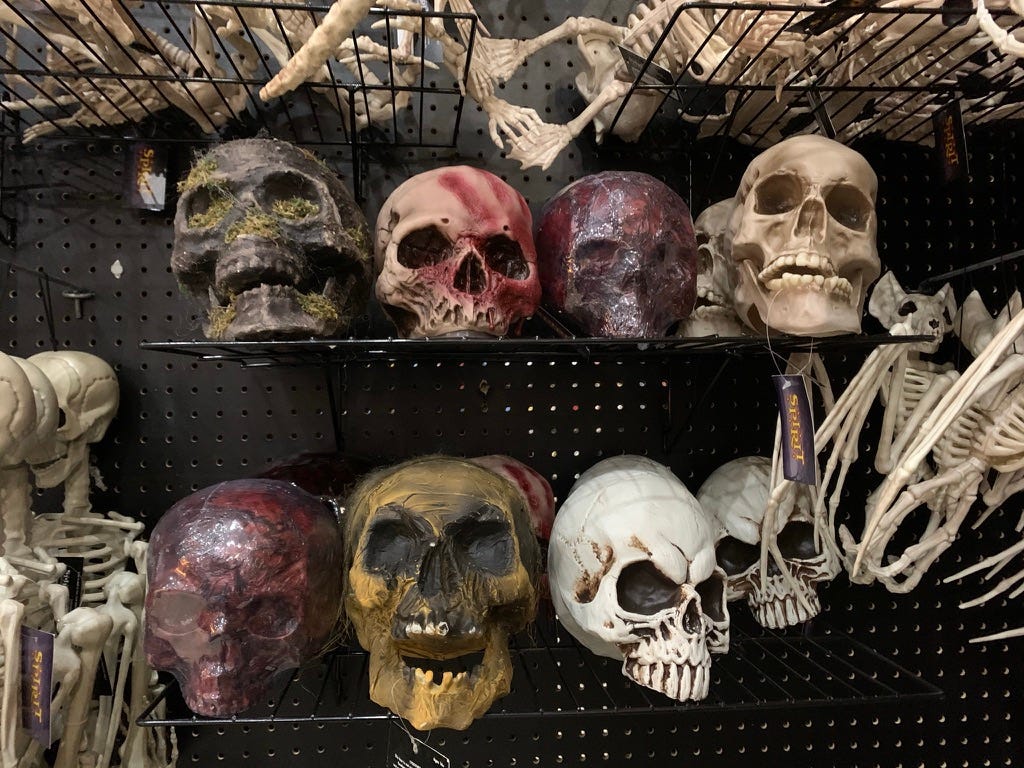 I realize it's not even Thanksgiving yet. But usually you'd catch the early signs of Halloween — an inflatable pumpkin here, a front porch massacre there — by now.
Instead, homeowners are waiting it out this year to see if it's worth the effort of wrapping their boxwoods in police tape.
Or maybe, in a year redolent of actual death, decorating with skulls and tombstones feels especially distasteful.
Some U.S. cities have toyed with the idea of banning trick-or-treating — it was briefly nixed in Los Angeles until public outcry caused officials to roll back the ban and merely caution against the practice — and Mayor John Tory says he won't hesitate to do the same in Toronto.
Peripheral events here such as Screemers, the Church Street block party and those beloved pumpkin parades have already been cancelled for 2020. Though there will be an inevitable drive-through LED-lit Halloween experience.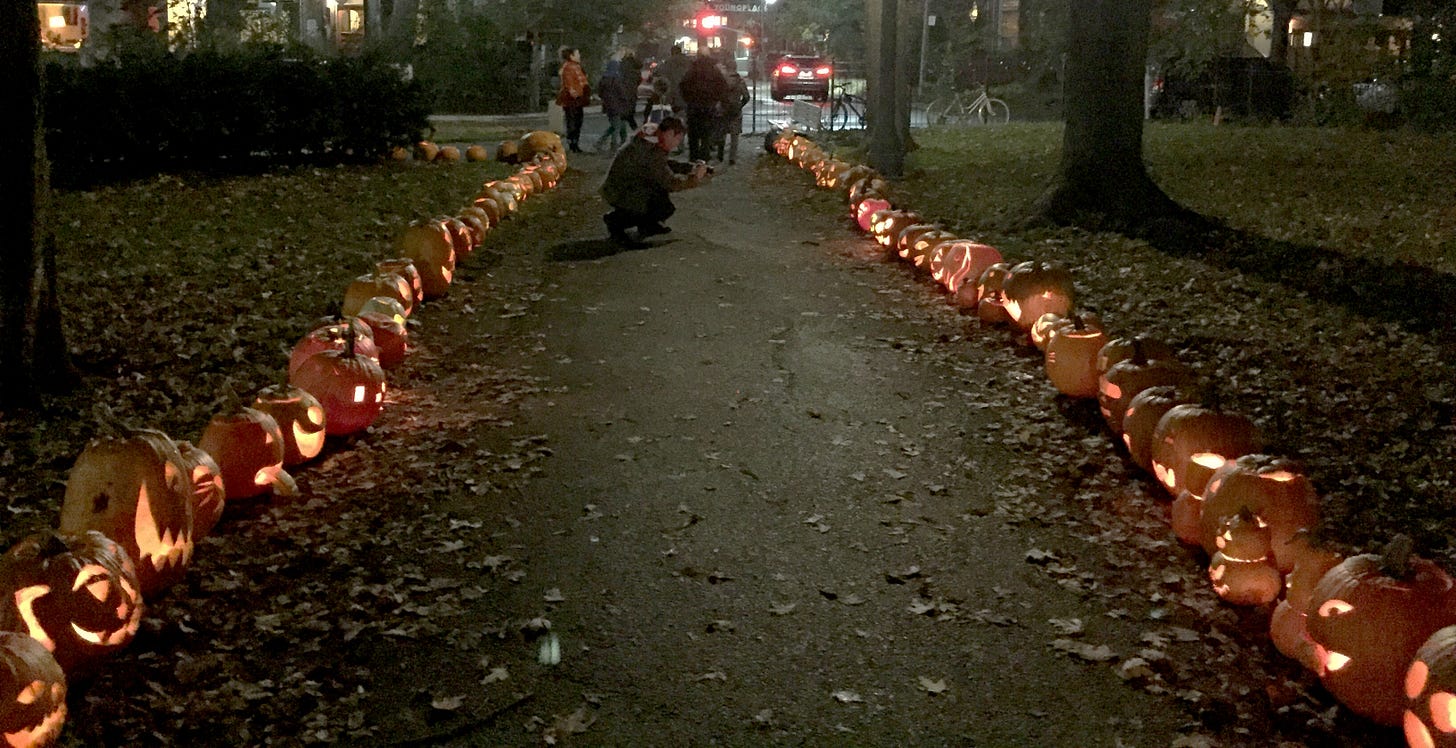 R.I.P. pumpkin parades.
Other places are going to great lengths to explain how Halloween can safely go on.
But cancelling Halloween outright seems, at best, ironic.
After all, this is the one holiday that's built for a pandemic.
Masks? Check. Obsession with death? Check.
Good luck explaining to children that in 2020, a year that is basically one long and morbid masquerade ball, they can't go out dressed in the PPE outfit of their favourite superhero. That although they sit insufficiently distanced in full classrooms all day, they can't wander the neighbourhood, masked, distanced and outdoors, on their favourite night of the year.
My 10-year-old, like a majority of elementary-aged children, would sooner call off his own birthday than the annual costume-and-candy feast.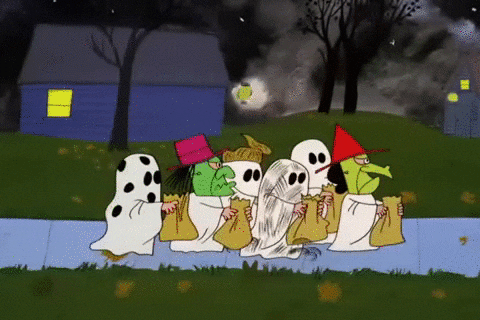 Cancelling Halloween is like cancelling Tuesday. Or sunset. It's going to happen, in one way or another, because kids will demand it. So we might as well figure out a way to make it work safely.
Those who don't want to participate can make it clear, like they do any other year, by turning off their porch light and clearing their lawn of anything that can be mistaken for pagan iconography.
And many parents who are uncomfortable with the inherent risks of communal candy foraging will find other ways to celebrate.
"Ugh, Halloween! My kids have literally been counting down!" says Hannah Sung, journalist and author of the excellent At the End of the Day newsletter.
"I just keep repeating my mantra which is that 'Mommy doesn't know and we have to be flexible this year with everything because of COVID.'"
Sung's two children won't be trick-or-treating this year "because I can't imagine how that could be done safely."
"They've asked to do a 'parade' in their costumes on our street," she adds. "I might turn that into something like, just walking up and down the street in costumes while it's still light out."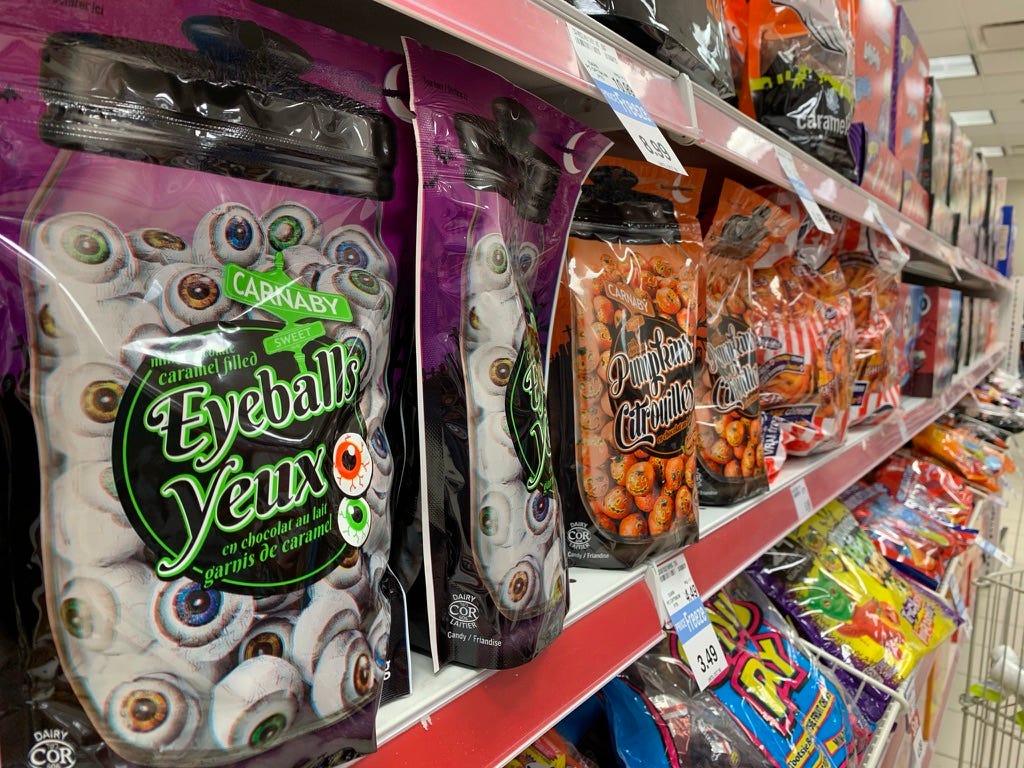 The shelves at Shoppers are sure counting on as much copious candy consumption as any other year.
And a huge Spirit Halloween pop-up store opened up downtown at King and Spadina, in a former LCBO.
On Wednesday afternoon the aisles are virtually empty.
I purchased a couple of the year's must-have accessories and made my way home.
"Buy me! Buy me!"
Later I texted my friend Erik Mohr, who has become something of a neighbourhood legend for his elaborate handcrafted costumes that he'll spend weeks or even months preparing, whether he's got anything in the works this year. If he doesn't, something is definitely off.
"Ooooo. I've been thinking about it but I haven't started yet," he texted back. "Maybe this is the nudge I need!"
No pressure, Erik. But kids are counting on being scared, for once, by something that's not Covid-19.

What do you think? Is it irresponsible to allow trick-or-treating to continue? What decent alternatives are there? And what options are there for those who live in apartments and condos? Join the discussion by clicking here and you could win your very own creepy plague mask. See you there.