Discover more from Uncultured
Miss culture? Get Uncultured, your free ticket to pandemic entertainment. Get weekly news, interviews and Toronto culture tips in your inbox.
Sing along with 1,500 of your most distant friends
Choir! Choir! Choir! and Rufus Wainwright bridge the choral divide
Welcome to Uncultured, a newsletter about keeping ourselves entertained while the world around us is anything but entertaining.
Today, I'll be chatting with my friend Nobu Adilman and mulling this question: Could a pandemic choir possibly be better than the real thing?
Well, could it?
Obviously not. Not for the singers, accustomed to being surrounded by a cascade of harmonizing voices, an experience no longer advisable now that group singing is considered a "pandemic nightmare scenario" after multiple confirmed superspreading events.
But choirs are inherently a communal bonding experience. If you're not surrounded by your choral peers, you're just singing solo karaoke.
Still.
There's something uniquely monumental about the video projects we're now seeing from choral groups around the world, with each vocal track produced in isolation then blended into a much larger, beautiful whole.
Take Toronto's popular public sing-along act Choir! Choir! Choir! Four years ago for Luminato, they teamed up with Rufus Wainwright and an audience of 1,500 volunteer singers at the Hearn Generating Station for a soaring rendition of Leonard Cohen's "Hallelujah."
Now they've joined forces with Wainwright again, singing a different cover tune, the Beatles "Across the Universe," and another 1,500 amateur singers — only those singers are now spread out across Canada and the world (if not quite the universe). The video debuts today.
Have a look. If you experience chills, don't rush out to get a Covid swab. It may just be your body's emotional response to hearing the fantastic acoustics (better than the Hearn) of 1,500 isolated voices seamlessly layered into the final product, combined with the sight of 1,500 isolated faces brought together in a constellation around Wainwright's bearded mug.
It makes for dramatic viewing — undoubtedly more so if your own face is one of the stars in that constellation. So how did they pull it off?
"This video was probably the most stressful of any video we ever made," admits Nobu, one of the choir's founders, along with Daveed Goldman, in a phone interview.
"It took me about eight days to download and to catalogue all of the videos. It took about the same amount of time for Daveed to do the same thing with the audio."
And that was before they handed off the files to editor Byron Wong who took on the complex task of rendering each video and syncing them all together.
"Three quarters of the time, if not more, was spent just setting up the faces and making sure that all the boxes are singing in time with each other," Nobu says. Only then could they think of adding in fancy night-sky flourishes. All told, the process took about two months of work.
"There's a lot of technical stuff that's involved with that," he adds. "If you don't have good audio you're dead. So it's challenging, because people are recording in sometimes less than ideal situations. And so you have to go to every single video and watch every single one… Sometimes people just put their camera on but don't keep in time with the actual track so, you know, in the first five or six seconds, it's fine, and then it starts drifting."
So, I guess what he's trying to say is, don't expect one of these grand productions every week. That's why C!C!C! has been doing regular live-streamed gatherings on Facebook, called choir!ntine!, which take considerably less effort but do the job of keeping the sing-along hungry community connected.
But now that "Across the Universe" is out in the world, and with a zany new series out on CBC Gem and a recent solo album under his belt ("it was many years in the making and kind of anticlimactic to put it out"), Nobu is allowing himself some much-needed beach time. But first, he answers some hard-hitting questions. (Interview condensed and edited for clarity.)
True or False: Covid-19 is primarily spread via choir practice.
(Laughs.) I wouldn't say primarily but I would say that it's true that it's a bad actor in the new order. We've literally chosen the activity for our careers (that is) the very last column of businesses that will be able to start up again, which is really wonderful.
What phase is the reopening of choirs?
I think it's like 99. I don't know, like the day after they reopen Medieval Times, I think we can.
When was the last time the choir sang together in person?
I think the last time was a fundraiser for the bar that we were at for a long time, Clinton's Tavern, after it had sort of been closed unceremoniously, and the staff, as far as we understood, had been left out in the cold … so we held a fundraiser for them at Lee's Palace (on Feb. 25 — photo below by Joseph Fuda).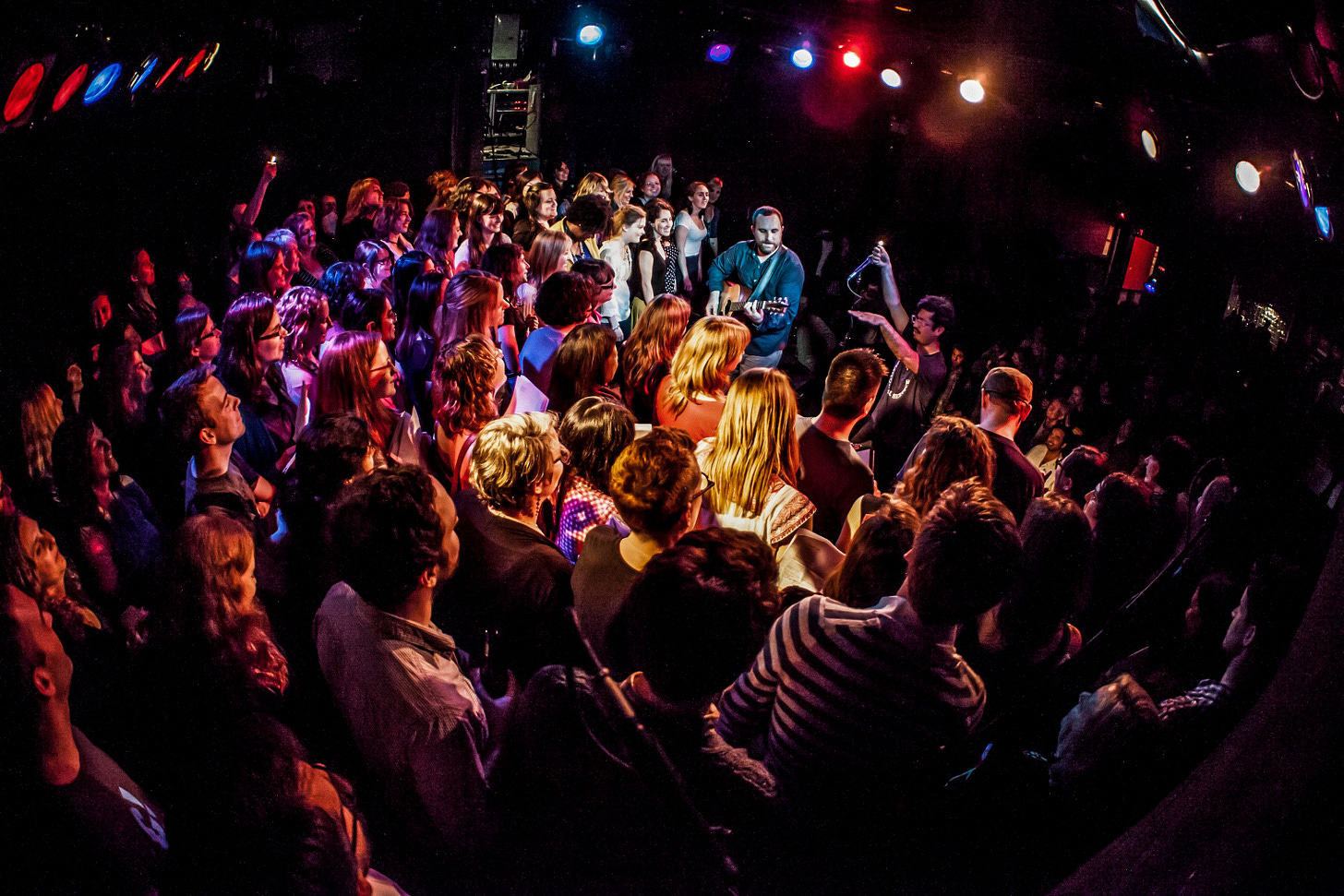 On the choir going online
We have tried to stay present with our community because we know everyone's missing each other. And then in the process of doing that a lot of people who watch our videos from around the world and countries we haven't been able to get to yet were able to join.

Those events online have been, you know, a way for us to connect with people. But it's very strange to look at photographs and watch videos from normal times because it's a little bit painful. You miss it. You miss the people, you miss the energy.
So how did this Rufus Wainwright project come together?
Well, you know, there were a number of different people from different choirs who were doing online crowdsourced videos, and it only made sense for us to do it. And, you know, we've collaborated with Rufus twice before. And then we just wanted to reach out to our community, to sing an inspirational song that connects people, and Rufus has such a powerful voice, so we reached out and he said yes, thankfully.
How many submissions did you get?
We got 1,500. And, you know, these types of videos are new territory for us and for so many people. This moment in time has really forced artists and creators and performers with this challenge of having to figure out how to be broadcasters.
And how many of those voices made the final cut?
They're all in there.

Mister Nobu's pandemic playlist
"I've been on this big kick of listening to, for a long time now, really soupy piano instrumentals. Yeah. It's just sort of in my bid to stay calm all the time. I have really kind of embraced this very soft music and I've become a big fan of Alexandra Streliski. And it's an album of hers called Inscape. I listen to it every morning when I wake up and it's just the most beautiful piano playing."
"Just started to listen to Aimee Mann again, listening to her album Mental Illness, which is really, really great."
"A friend recommended Luther Vandross's Never Too Much, which is just the most touchy feely R&B. Really, it's so so so so good."
"I can't resist Phoebe Bridgers' music. Her new album Punisher has definitely gotten a lot of listens."
"Bill Ricchini, he's got this album called Tonight I Burn Brightly. He's kind of in the vein of Elliott Smith … but there's this kind of northern soul aspect to it."
"I've really been enjoying Fatboy Slim's live house music DJing. I was just watching him and Idris Elba DJing together in the studio. But the first one I saw was with him and his daughter and it was the most charming thing and just reminded me how much I love house music."
"A Toronto artist who I've really been digging over the last couple of years is MorMor. Just so darn good."
Nobu also says he's become obsessed with the podcast Wind of Change, which probes an unusual conspiracy theory: that the iconic Scorpions song of that name was written by the CIA. It has quickly become my obsession too.

Like what you see here? Click the little heart button and please spread the word. See you soon.