Discover more from Uncultured
Miss culture? Get Uncultured, your free ticket to pandemic entertainment. Get weekly news, interviews and Toronto culture tips in your inbox.
The curtain rises and falls again
Things were finally looking up for live performance. And then came the bad news.
Welcome to Uncultured, keeping you pandemically entertained since July 2020.
Not to brag much, but I had the privilege last week of attending a live indoor concert — for the first, and possibly last, time of 2020.
I'll get to it in a minute, but first allow me to introduce our first-ever sponsor.
Today's Uncultured is brought to you by The Resounding Concert, a free live-streamed show with a truly eclectic lineup of guests, including Meryl Streep, Lang Lang, Buffy Sainte-Marie, Chilly Gonzales, k.d. lang, Sondra Radvanovsky, Alex Cuba, Kronos Quartet with Tanya Tagaq, Skratch Bastid with Afiara Quartet, Zakir Hussein, Jan Lisiecki and many more.
What do these diverse acts have in common? They have all, in the pre-Covid times, performed at Koerner Hall, one of Toronto's finest spaces for live performance.
On Saturday at 8 p.m. (EDT) they will take part in the 90-minute concert, a virtual version of the annual benefit gala for Koerner Hall and the Royal Conservatory of Music.
It's free to watch for anyone who RSVPs right here. (Which I just did. Yay!)
If you want to recreate the gala experience at home, there are also three tiers of dinner packages available, starting with a wine-and-cheese affair for four people at $500. Top tier, at $8,000 for eight to 10 guests, includes a three-course dinner by Daniel et Daniel, four bottles of wine and optional butler service. That's right, butler service.
See you Saturday, Meryl!

Now, where were we?
October was off to a good start. Things were starting to brighten up a little for Toronto's live performance spaces — and the thousands of people who rely on them for a career.
Finally, orchestras were regrouping, live concerts were put on the schedule, and a new stage production was announced for November.
Last Sunday I was the lone member of the audience, sitting at the back of Koerner Hall for a rehearsal of the Royal Conservatory Orchestra. They were running through a program of Mozart and Beethoven for an upcoming livestream.
This was the first time the orchestra had played together since February, though it was truly hard to tell — except for their obvious elation.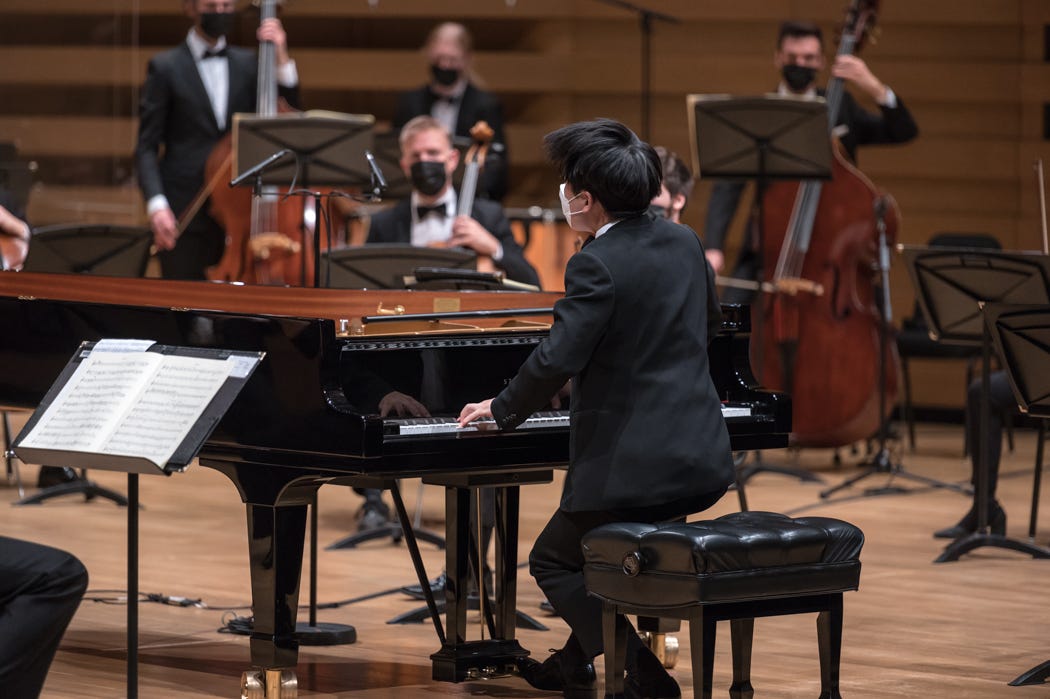 Lisa Sakulensky/Courtesy of The Royal Conservatory/Koerner Hall
Circumstances had changed: they were all spaced apart on the stage, wearing black masks to match their formalwear, and the unmasked wind section sat in separated Plexiglas booths. There was no conductor to guide the musicians; the task of keeping the orchestra in sync was left to Jonathan Crow, pulling double duty as concertmaster.
After being stage-starved for months, I could have easily sat through the same performance a second time.
Later in the week, I took in a live performance of Fall For Dance North, which in normal times is the city's best dance festival.
While Meridian Hall was closed to the public, visitors could take a seat in the west-side plaza and watch an intimate rehearsal in progress.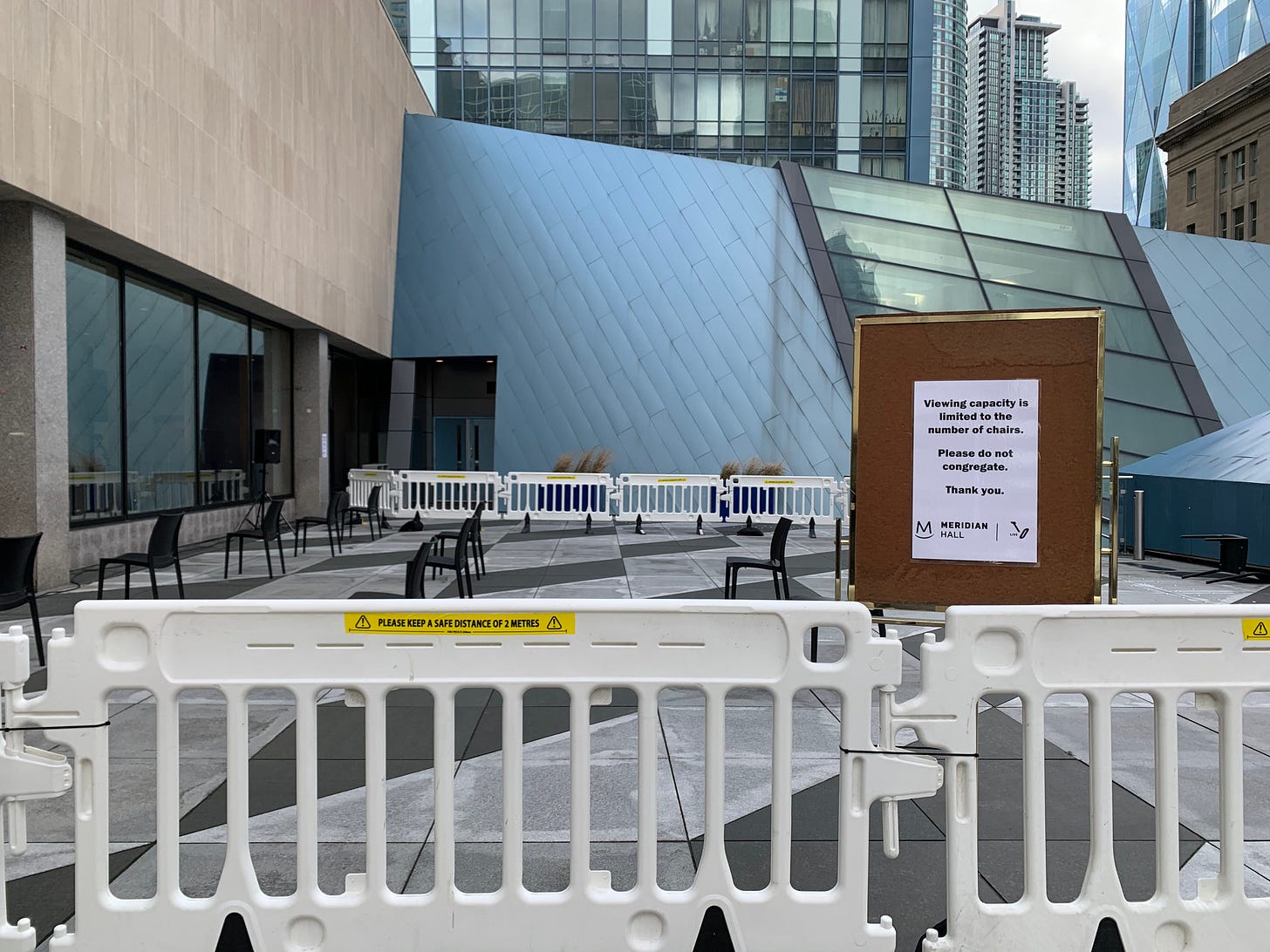 The weather was iffy that day, so again I was the only member of the audience. Also, the glare made it hard to see what was happening in the studio on the other side of the window.
Points for trying.
I did a quick survey of other major theatres and performing arts venues around town to see if they were still gathering dust. All of them, in some way, were back in action or slowly preparing to welcome back audiences.
Good news, eh?
That is, until the bad news overtook it.
Ontario's Covid-19 cases have been steadily climbing to record levels. So, just in time for Thanksgiving weekend, Toronto, Ottawa and Peel region — the province's three viral hotspots — were tossed back into the darkness of a "modified stage 2." Or, as performing artists call it, square one.
That means no going to indoor gyms, casinos, bingo halls, restaurants, food courts, cinemas, performing arts venues and "exhibits with high risk of personal contact" in museums and galleries. The phase is set to last 28 days, but few expect the restrictions will be lifted so soon.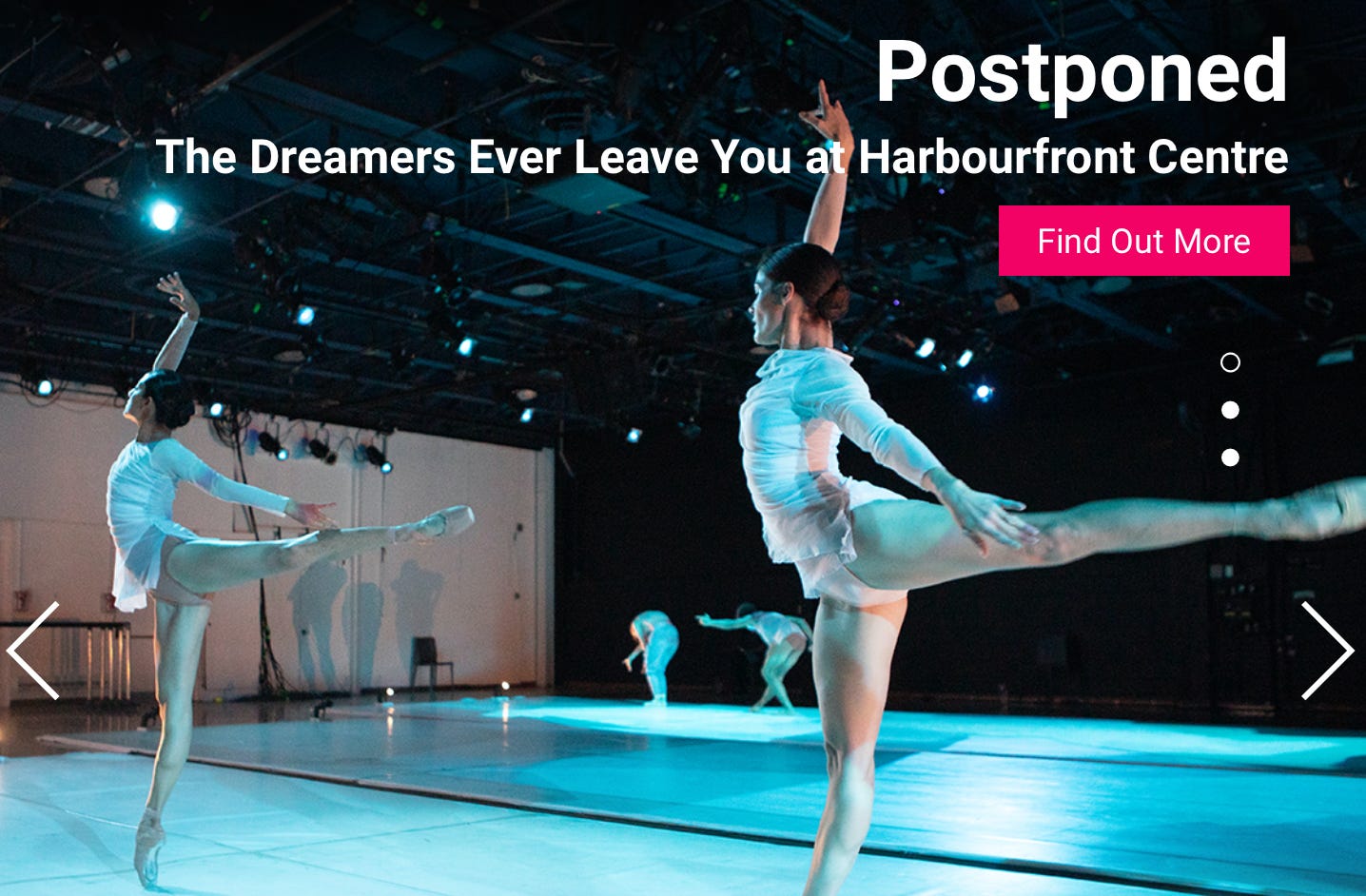 No sooner had the curtain begun to rise than it crashed back down again. The National Ballet performance mentioned above has now been postponed. Others may follow.
Are the restrictions fair? Does it make sense to lump theatres in with restaurants and bingo halls?
Even before this new shutdown, the rules for theatres were especially strict — maximum 50 patrons, well spaced, no matter the size of the venue. When I went to watch Tenet at the 600-seat Cinesphere, there were only six other patrons. Now even that's not permitted.
Meanwhile, retail stores remain open with the vague guideline that they should allow four square metres per masked patron.
Sensical or not? Would love to know what you think.

I don't want to end on a sour note.
Instead I'll let Lawrence Gowan play us out.
Last month, more than 600 live performance venues across the country glowed red for a few hours, an urgent reminder that they're still out there, bleeding lost revenues, and that an entire industry remains out of work until further notice.
The message seems especially pertinent now that we're back in shutdown mode.
In Toronto, red lighting shone upon pretty much every theatre and stadium, raising awareness but not curtains.
The event, oddly enough, wasn't called Nuit Rouge, but LightUpLive.
The crimson mood lighting was ephemeral, but the video montage of the evening, with live accompaniment from a velvet-voiced and silver-haired Gowan, is forever.

Like what you see here?
Consider subscribing if you don't already, and click the ♡ button for good luck. Chat soon.