Discover more from Uncultured
Miss culture? Get Uncultured, your free ticket to pandemic entertainment. Get weekly news, interviews and Toronto culture tips in your inbox.
The great pandemic restaurant boom
It's a thing. But can it last?
Welcome, Uncultured subscribers, new and old, plus all you culture-starved readers who are just browsing but not quite ready to part with your precious email addresses just yet.
Need convincing? It's free to sign up to ensure you get all the updates directly to your inbox. You'll also be able to comment on any post, get access to future bonus content, and I won't sell your email to the devil or anyone else I know. We'll have some fun! And you just might win a fancy souvenir.
That's the pitch. Time for the show.
Julie's Cuban was one of those picture-perfect neighbourhood restaurants you'd be privileged to have as your local. Big, leafy patio where you could eat fresh ceviche and sip mojitos. A delightful, tchotchke-strewn interior that gave the location a small-town general-store vibe.
I'd sat on that patio many times over the years, and even though the menu and service was inconsistent, the ambiance was irresistible, so I always returned.
Then it closed, after 25 years, in September 2019.
The patio has been sadly vacant ever since, missing out on what should have been its peak season.
That is, until a new restaurant opened its doors there a few short weeks ago. The patio at Bernhardt's is now bigger, and as busy as Julie's ever was.
That's right: a new restaurant, opened during a business-killing pandemic. Who does that?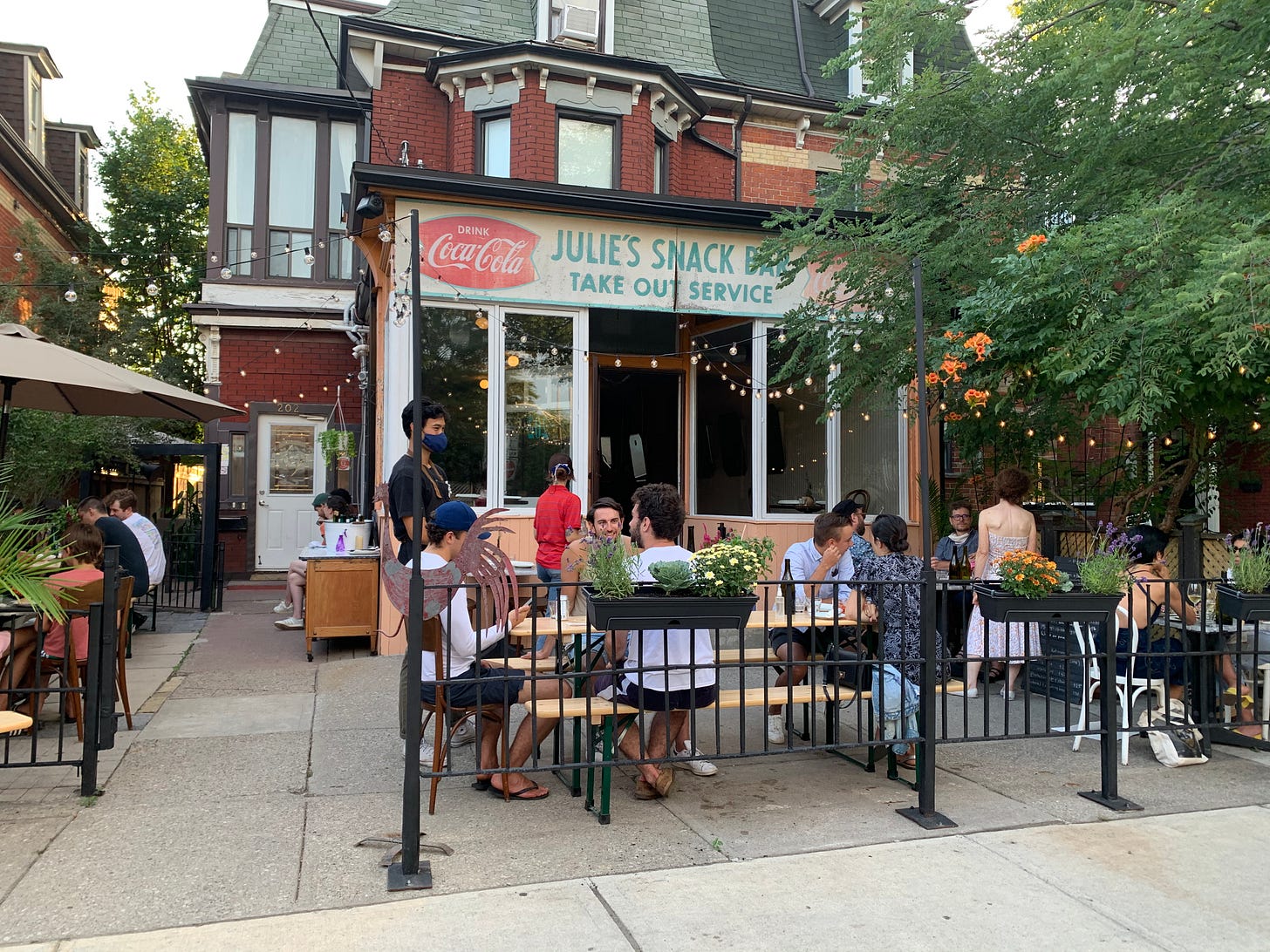 The patio at Bernhardt's: They kept Julie's vintage sign.
A lot of people, it turns out. After months of bad news for the industry, there's been an impressive wave of openings.
Just two blocks from Bernhardt's, on Ossington, is the welcoming Manita, a Spanish cafe/bar/grocery from the makers of Grand Electric.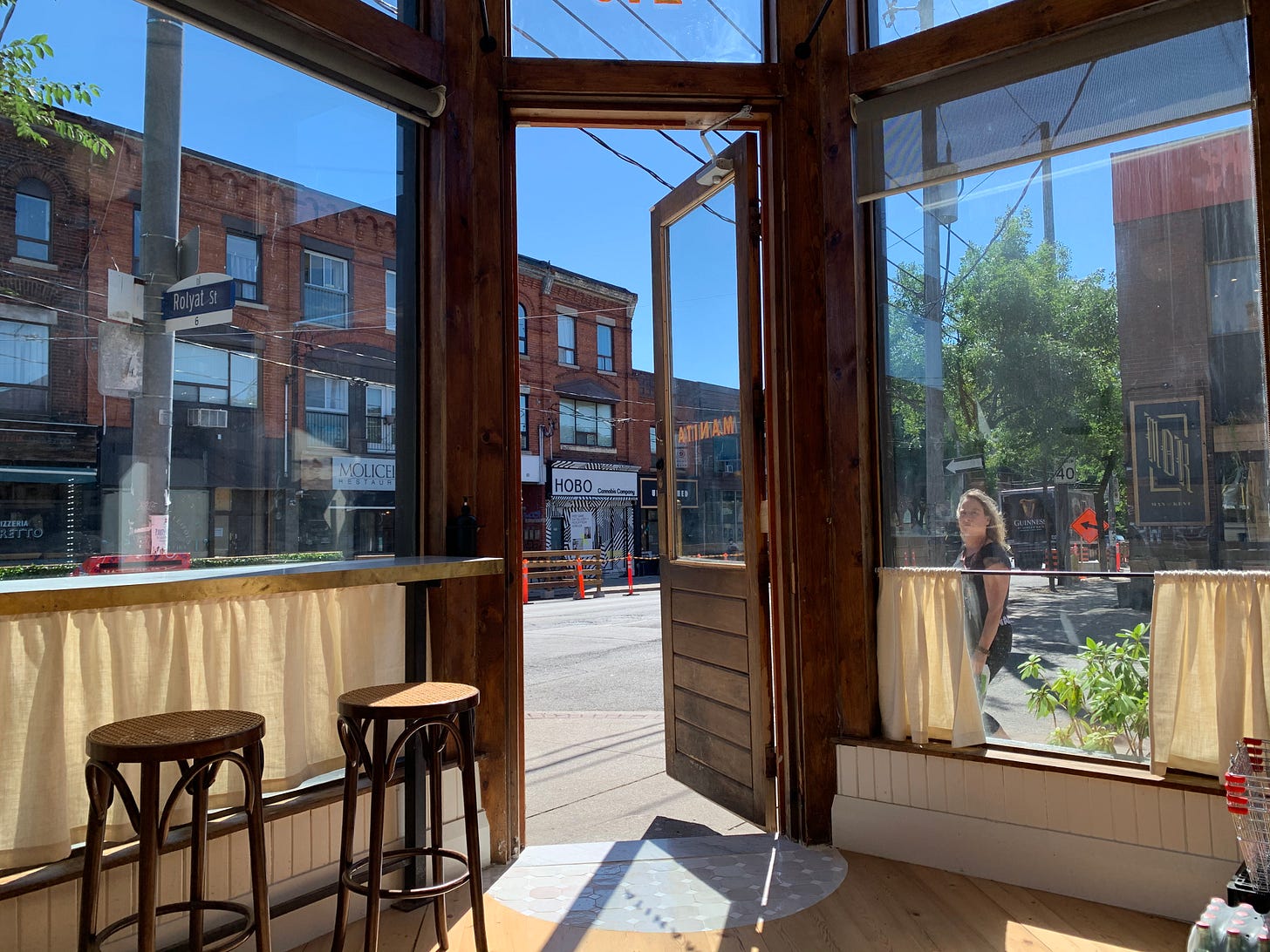 Nearby on Dundas is the Venice Beach Bar, part of a micro-trend of parking lots made festive with picnic tables and string lights. This one's a partnership between Bar Mordecai and Unboxed Market. Squint and you can almost believe you're in Santa Monica (facing away from the beach).
There are booms like this all over town. In Kensington Market, one block of Baldwin Street has two excellent new Middle Eastern joints, the bustling Abu Hummus and the all-vegan Eat Nabati. Try the falafel at both.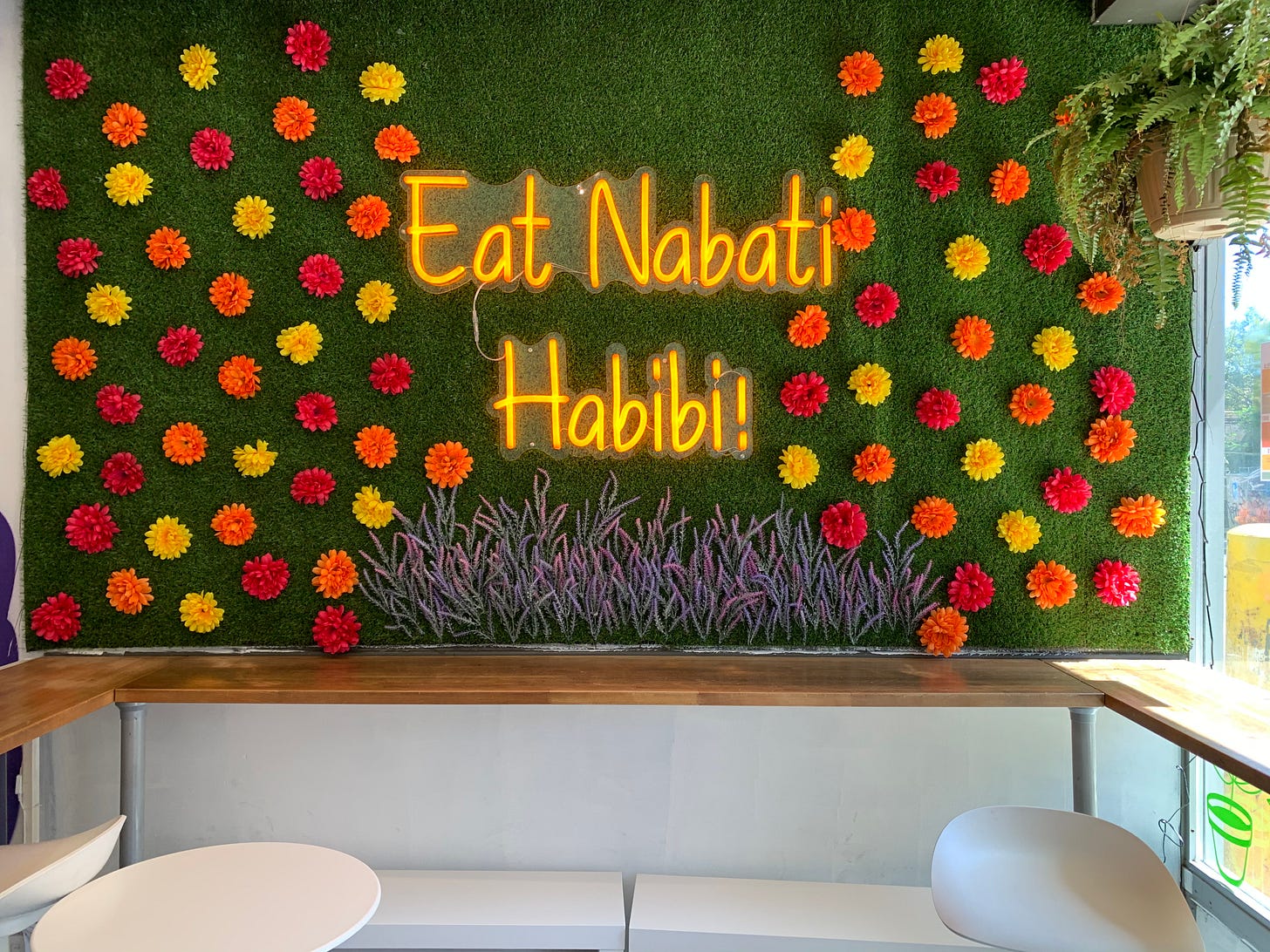 I'm not the only one who's noticed the resurgence.
"The arrivals haven't slowed down one bit," affirms Stephanie Dickison, who runs the excellent site Toronto Restaurants, with a weekly open/closed tally of restaurants, bars and cafes around town that gives a good idea of the scene's upward and downward momentum.
Last week, she listed 22 openings and four closings; this week, a more modest 12 openings and three closings. It's been like this for weeks.
Why? Well, after months of closings and restrictions on indoor dining, the summer weather made the restaurant business at least theoretically viable.
The whole city's main retail drags have become pop-up versions of the King Street Pilot Project
Some businesses that might have planned to open earlier waited for patio season to do so.
"It felt like the right time," says Zach Kolomeir, chef and co-owner of Bernhardt's (and also Dreyfus on Harbord Street).
"We definitely expected to open sooner but due to the pandemic we took a step back in March and kind of re-evaluated everything."
Bernhardt's has now extended Julie's original ample patio into a blocked-off portion of Dovercourt Road, thanks to Toronto's popular (with diners if not drivers) CafeTO initiative.
The program will continue across the city into late fall, keeping the frost at bay with portable heaters, until snowfall puts an end to all the bollard-blockaded beer gardens.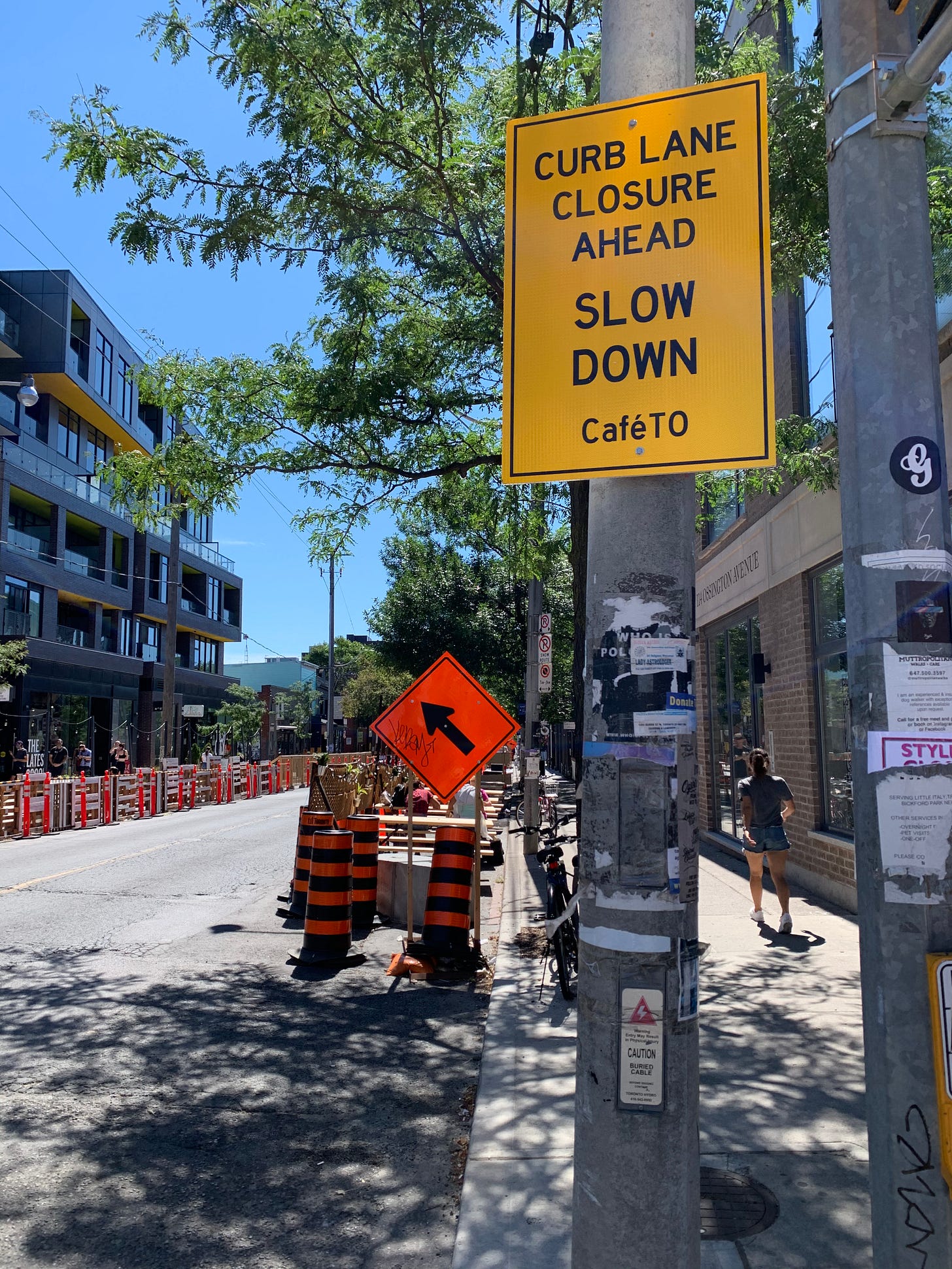 The whole city's main retail drags have essentially become pop-up versions of the King Street Pilot Project, with traffic reduced to a single lane in each direction (favouring pedestrians rather than streetcars in this case).
So it's notable that one restaurant that didn't survive the summer is the Kit Kat Italian Bar & Grill, an institution less known in recent years for its menu than for the icy middle finger it raised at passing streetcars, in protest of the successful, if controversial, King Street project. R.I.P.
But for the businesses that are opening, expanding and thriving, how far can the good times roll? Rising Covid-19 cases are liable to make more customers wary to dine indoors, even if they're permitted.
"It's hard to tell what the restaurant will look like post patio season," says Bernhardt's Kolomeir. "As much as we'd like to welcome everyone inside, we're still not sure if that is something we can totally accommodate."
"It will really become a stark reality mid-winter."
Stephanie Dickison warns we should brace ourselves, once again, for the closings to far outnumber the openings.
"There will be a slew come winter," she predicts.
"It will really become a stark reality mid-winter when our neighbourhoods previously filled with enticing restaurants and bars are instead lined with cannabis shops and nail salons." 
Until that time, we'll be dining outdoors on pavement piazzas, biting our unkempt nails over what's to come.

See? Told you we'd have some fun. In lieu of tips, please press the little heart button below. See you next week.