Discover more from Uncultured
Miss culture? Get Uncultured, your free ticket to pandemic entertainment. Get weekly news, interviews and Toronto culture tips in your inbox.
So, have you been to Immersive Van Gogh yet?
It is, after all, one of only two big-ticket events in Toronto this summer that haven't been indefinitely postponed, cancelled or — worse — gone virtual. (The other is the zoo's drive-through "safari," which is like a traffic jam with animals.)
So, starving for culture like everyone else and a sucker for immersive pop-ups, I went. And it was exactly as good and as terrible as I anticipated. 
If you've ever looked at Vincent van Gogh's sunflowers and wondered why they're just sitting there smashed on the canvas and not dancing around your body to the strains of an Edith Piaf song played loud enough to give you the impression she's screaming for you to get off her lawn, this is the event for you.
The puns were the first warning sign that this would be a no-brow affair: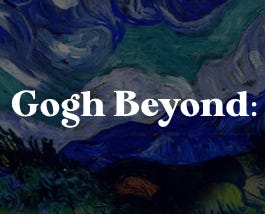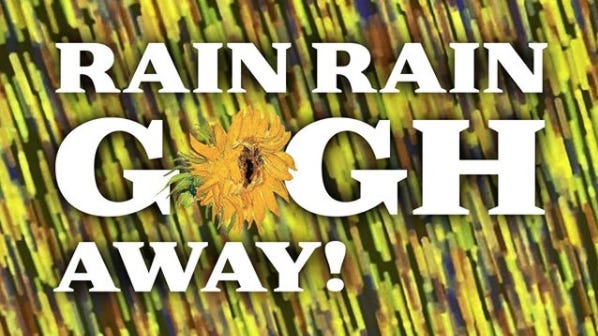 Hey, I'm all for wordplay, after years of headline writing, but name-based punnery is the lowest of the lowest form of humour.
Branding for the show (the "shogh"?) has been everywhere for months now, with ads beckoning fans who want an extra layer of social distancing to "Gogh by car." After my safari experience, I decided to forgo the vehicular mask option and brave the exhibition on foot.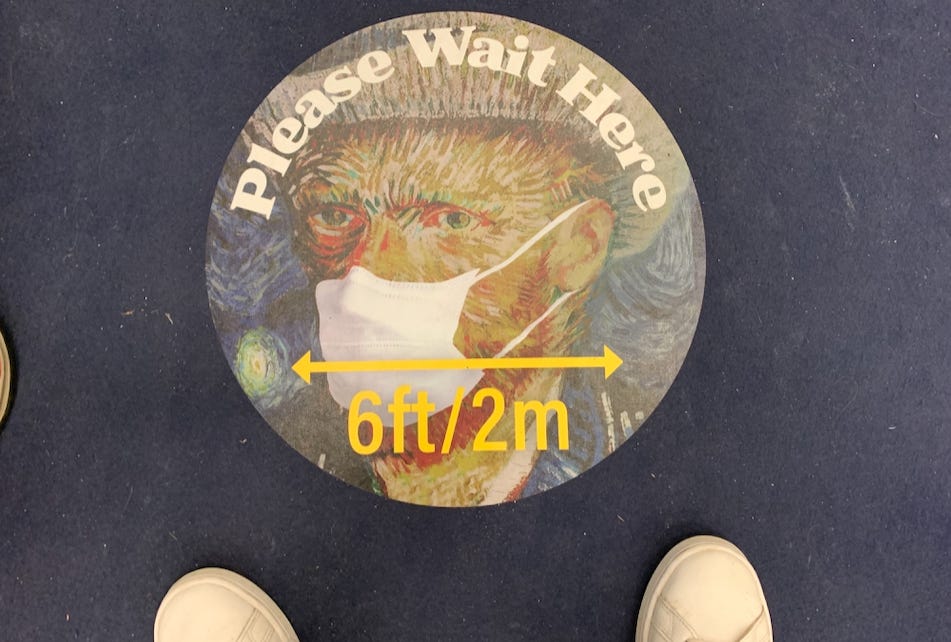 Upon entering the massive warehouse space at 1 Yonge Street (fun fact: the place where I used to write punny headlines), the effect is impressive, like stepping into a post-Impressionist version of the Matrix. Park yourself inside one of the now-familiar distancing circles on the floor, and take it all in.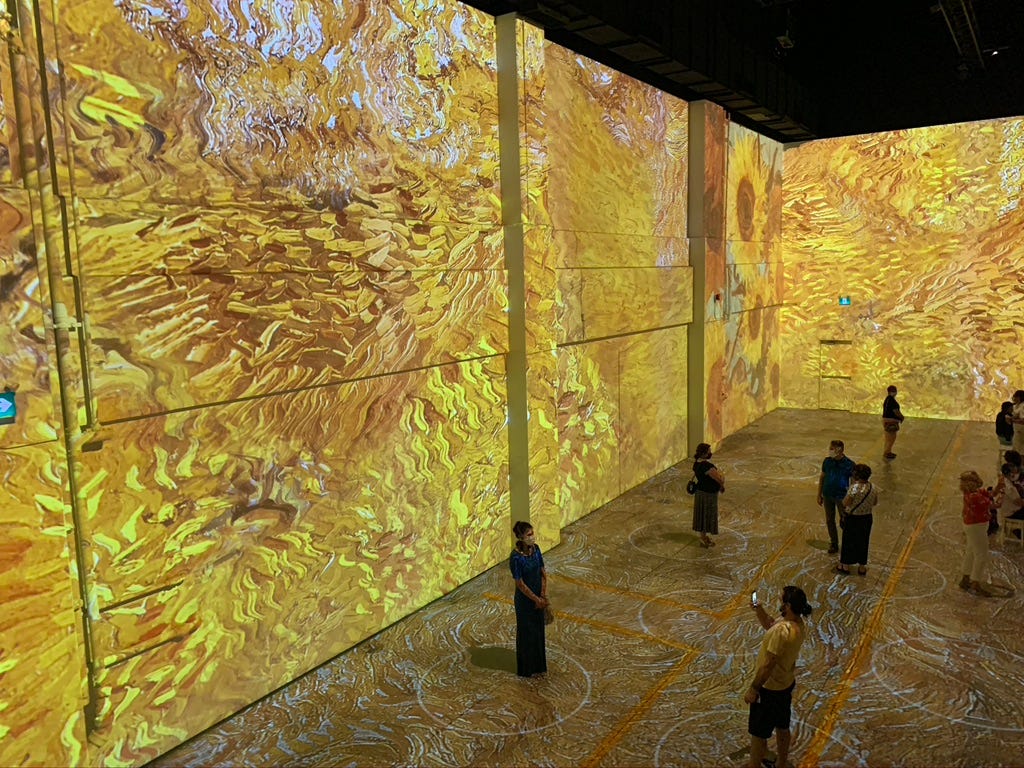 The 35-minute presentation is something of a whirlwind retrospective of hundreds of van Gogh paintings, mostly grouped into themes: street scenes, crops, portraits, self-portraits, windmills, sunflowers, houses and, of course, starry nights.
It's quite enjoyable to see the blades of those windmills slowly spinning, or a train rolling across a painted French landscape. The cinematic score by Luca Longobardi is suitably epic and entrancing.
But was it necessary to animate the bed and chairs in Vincent's humble bedroom so they seem to vibrate a little? Is that supposed to make us feel something? And why are there candles burning on Vincent's hat, a recurring motif in the show? The animations are often crude, the transitions awkward. If you really want van Gogh's paintings brought to life, watch the exquisitely crafted, eight-years-in-the-making oil-painted film Loving Vincent.
Or, you know, go see one of his actual paintings. Because here's the thing about those starry nights and sunflowers. They are already full of life and movement, even without digital aids. His ability to make oil paintings shimmer off the canvas is what makes him so revered 130 years after his death.
The event is produced by some of the same people who brought us that big unauthorized Banksy exhibition a few years back, also in a huge warehouse (though without immersive projections). They clearly have a penchant for taking some of the world's already-most-accessible artists and making them utterly bland.
Like the Banksy works, which, taken out of their street context, were denuded of any subversive power they once had, the Van Gogh scenes are presented as a series of pretty pictures, ripe for Instagram shares, stripped of any information or context that might help us appreciate what we're looking at. We're supposed to already know Van Gogh intimately (which many of us do, sure) and just appreciate the images on their own merit.
Then again, can we blame them for trying? The earlier incarnation of this show was a blockbuster in Paris — France! — attracting 2 million visitors.
And it's hardly the only immersive Van Gogh around.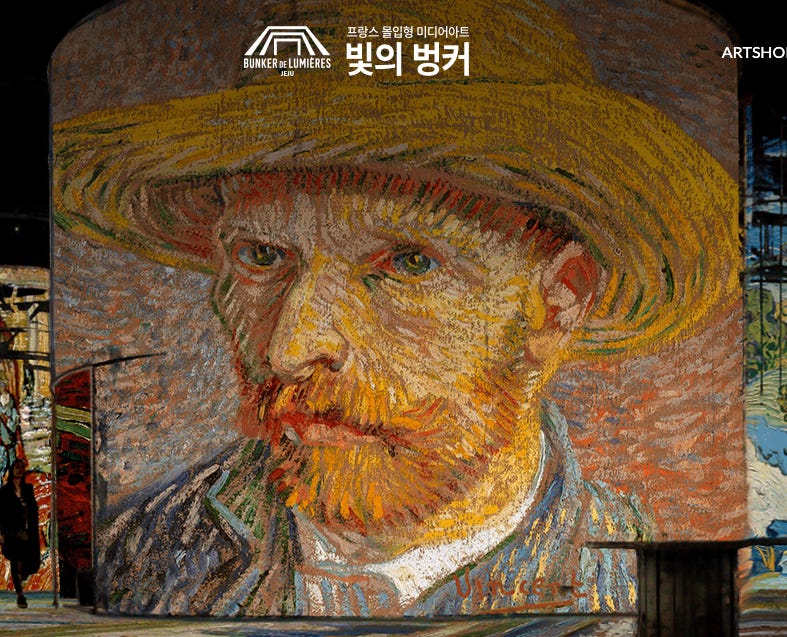 And it's not just van Gogh. All of France is now going on an immersion bender. The Atelier des Lumières in Paris, which hosted last year's Van Gogh hit, is now trying its luck with three Impressionists: Monet, Renoir and Chagall. In Lyon, earlier this year, there was Imagine Picasso. In Baux-de-Provence, it's hello Dali. In Bordeaux, they're crazy for Klimt.
But there's no beating van Gogh. And that's hardly a surprise. He remains one of the most bankable names in art. He produced relatively little in his short career — about 2,000 works, compared to Picasso's 45,000. So it's immensely difficult and expensive to mount a show with a sizeable number of Van Gogh paintings. Far easier to hire a composer and some digital artists to have their way with his public-domain oeuvre.
One of the few facts I gleaned from the immersive experience is from a slide at the beginning as you're waiting to get in: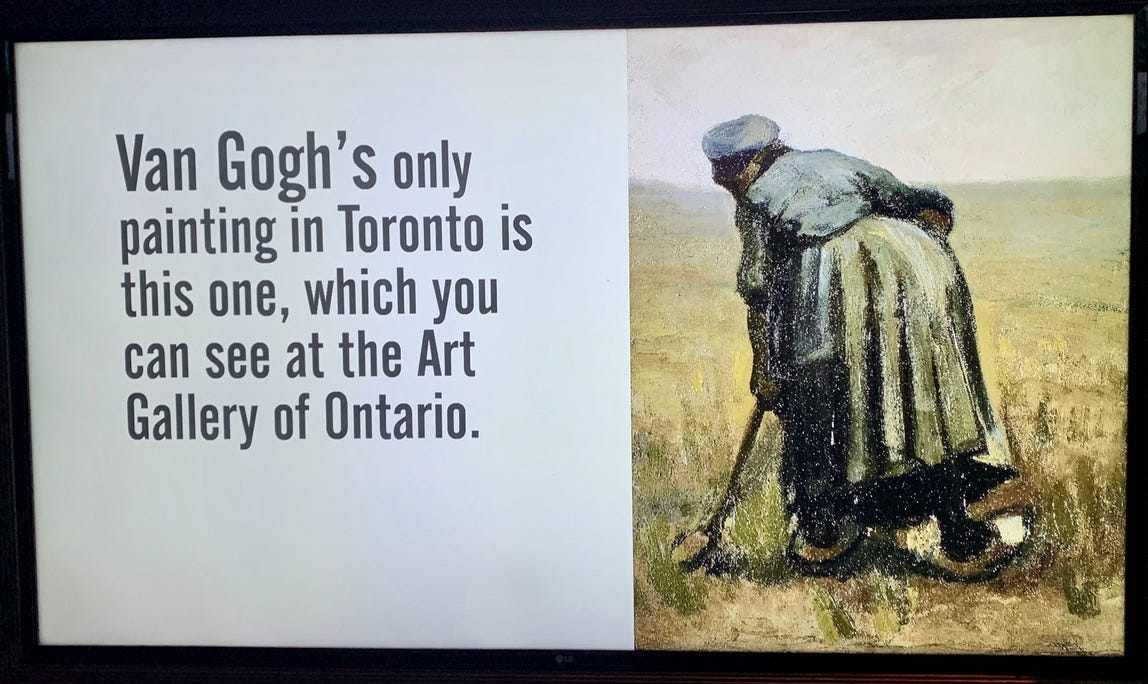 So after the show I decide to pay a visit to the AGO.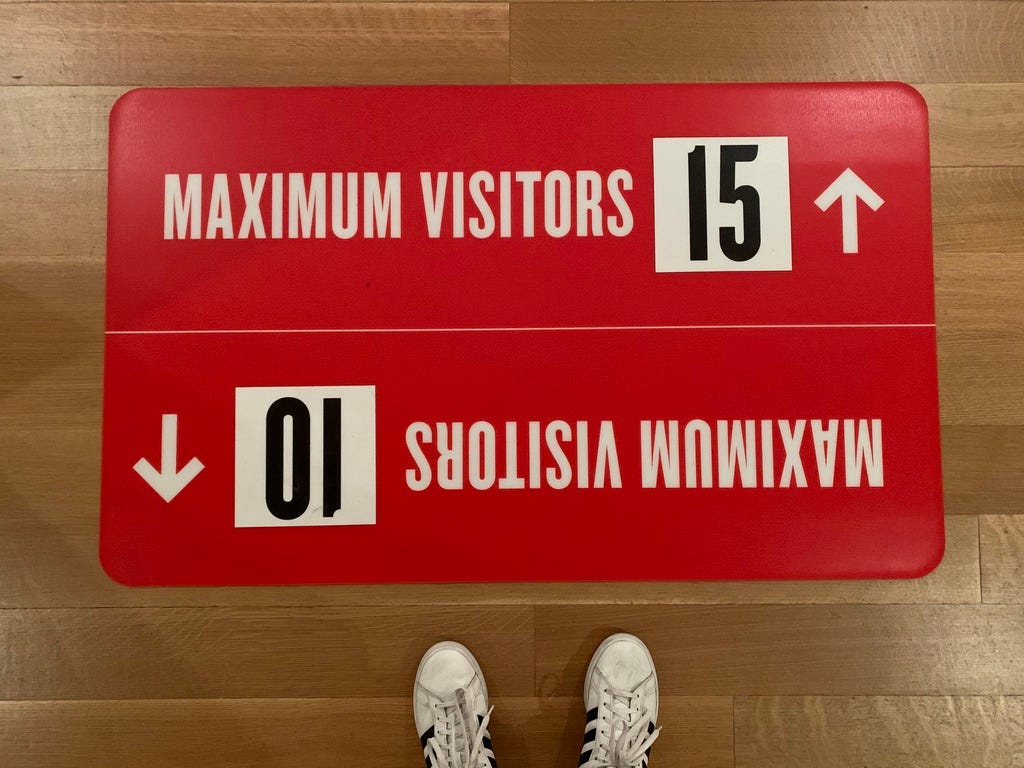 There's a limit to the number of people in each room at the gallery, but I'm the only one there to see A woman with a spade, seen from behind (1885).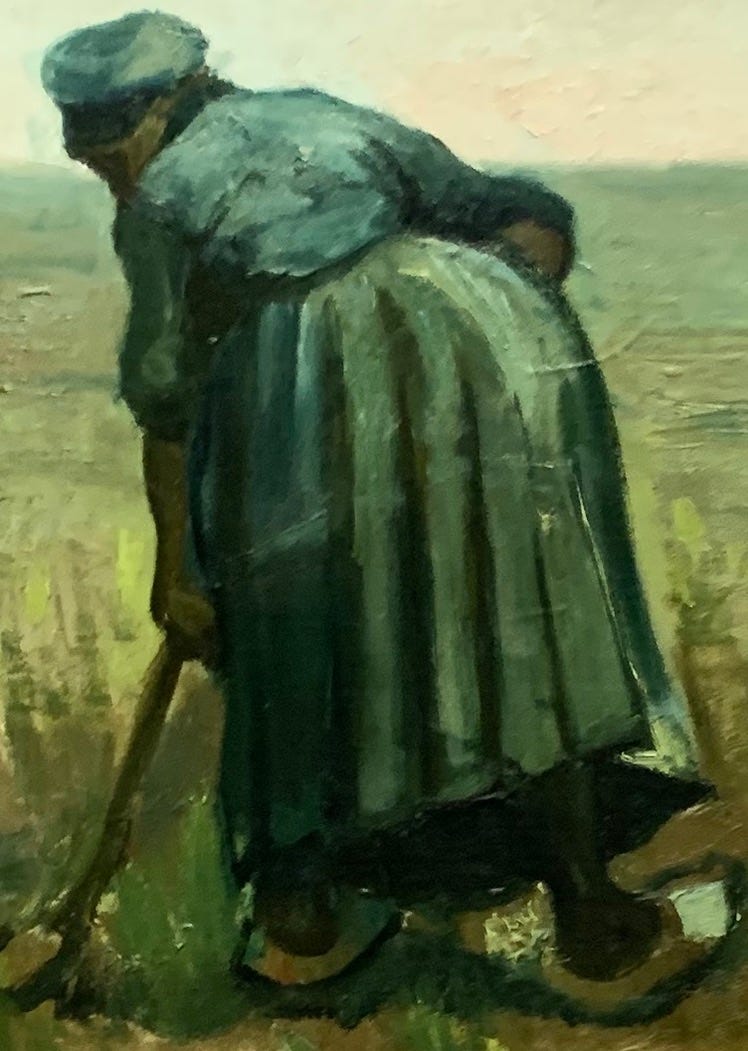 She's small, hardly bigger than my head, and simple, and busy in her toil. I think about taking a selfie, then reconsider.
She doesn't move. Doesn't even turn around.
---
Not that we need to ask, but…
Should you go see Immersive Van Gogh? In a word: nogh.
---
So what's this all about?
Oops, where are my manners? Welcome to Uncultured, a humble attempt to make sense of the ways our culture is changing amid a pandemic and seismic social upheaval. I'm Ariel, formerly the entertainment editor (among many other titles) at the Toronto Star. Expect the newsletter format to change over the coming weeks as I fiddle with all these knobs and switches. Subscribe for free if you're interested in seeing more.