'I can't believe how much I miss live music'
Recovering rock critic Ben Rayner laments the year the music died.
Here are some of the concerts you won't be seeing this week: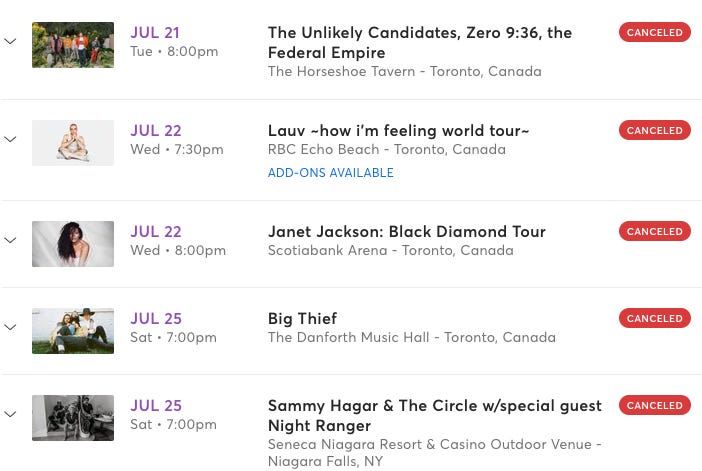 Chances are, you won't be seeing a live concert anytime soon. Unless you got tickets to one of a few drive-in events this summer, like this July Talk show in Sharon, Ontario,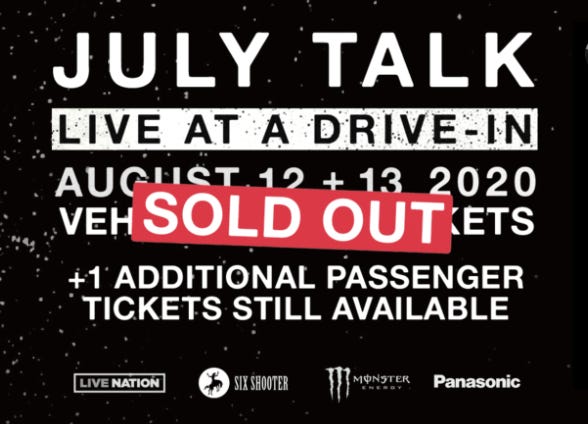 or this one at Toronto's CityView Drive-In (a.k.a. Polson Pier) with A Tribe Called Red (at $120 per car).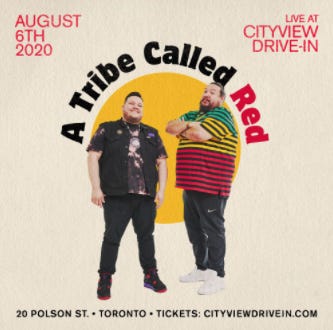 While it's a shame we won't get to enjoy live music at some of the excellent festivals that make the city come alive every summer, most of us don't mind waiting a year.
But that year (or more) is an eternity for some people — musicians, venue owners, promoters, roadies, and anyone else whose livelihood depends on live music.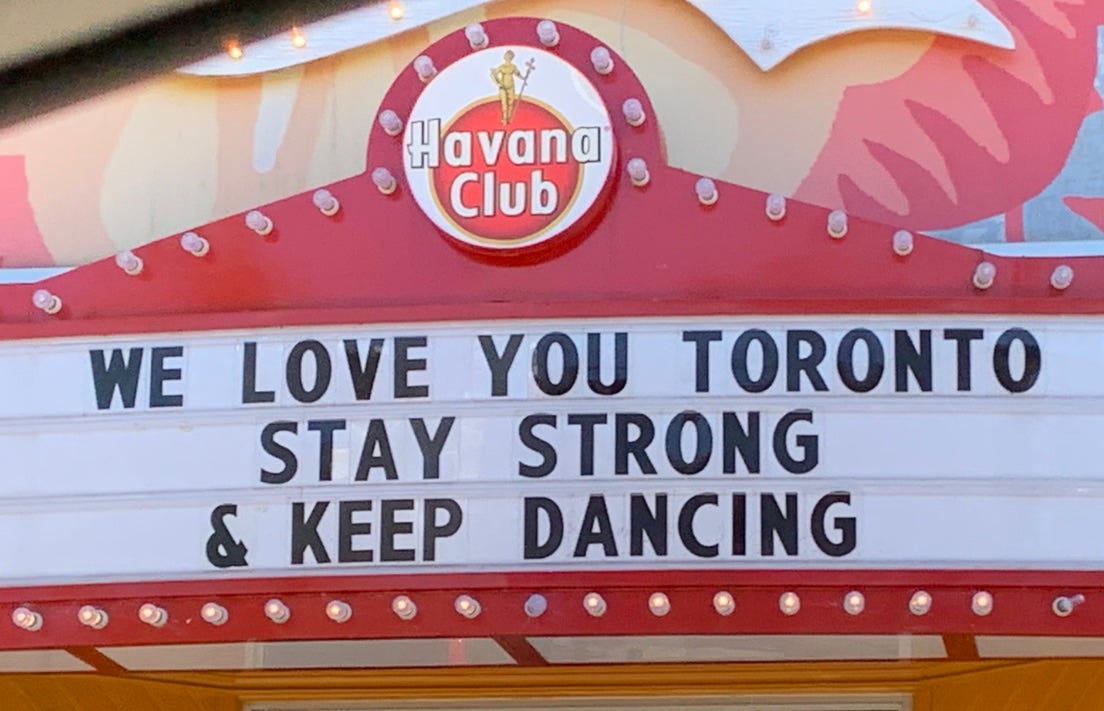 "I love being in love with a band, especially when I'm in love with them for the first time. I'm a serial monogamist," says Ben Rayner, who was the pop music critic at the Toronto Star for more than 20 years before leaving the paper this spring.
"I love when I get into something, and I obsess with them, and I just want to see them play. And I really miss that."
One of the last assignments he'd hoped to file was a dispatch from his annual trek to the South by Southwest festival in Austin, Texas, in March, before an advancing pandemic caused it to be abruptly cancelled just a week before the event.
Besides being a former coworker, Ben is also a neighbour and friend. He's currently spending his days being a full-time dad (and loving it), with a few side projects on the go.
He stopped by recently for a socially distanced backyard drink, where I cornered him for his take on the year the music died. (Interview edited for length and clarity blah blah.)
What he misses most
My entire life, one of my principal avenues of pleasure was listening to music.

I was so excited to see Bonnie Trash, this band from Guelph that nobody knows about, and I'm still excited to see them again. They were the highlight of my Hillside where they played at like 11 on a Sunday morning last year.
We were walking by the Music Garden last weekend, and there were a couple of guys that set up with an amp and some keyboards and there were people sitting around — quite responsibly, at a distance — and it was like, Oh my god, I can't believe how much I miss live music.
On the future of live venues
I think about Shaun Bowring who runs the Baby G and the Garrison, and Jeff Cohen who runs The Horseshoe — these tiny little places with low ceilings? Fuck, I don't know what they're gonna do. It's going to be a long time before they're allowed to come back. . . . Even if you can reopen, if you have to limit your capacity, then you're probably not going to be able to pay for touring acts unless they substantially lower their rates. You're going to go back to bands being paid like 150 bucks for a show for 50 people because that's how many they'll let in the building. So I don't know.
On drive-in concerts
Everybody's like, "drive-ins are the future!" Well, I don't have a car, so that's not really the future for me.
On a summer without festivals
I love festivals. . . . When I go to a festival I ditch everybody, I like to see a band an hour for as long as I'm there, and I like that, but I'm not having that (this year).

It feels weird. It's principally how I engage with music.

I can sit at my computer and listen through my headphones at night, but it's not the same.
It's different when you come across a band live. I love that. And there's so many bands that I love live. Like Pissed Jeans, or Jesus Lizard back in the day, Six Finger Satellite, where the records are fine, but those are bands where you go see them live every time they come to town. Like A Place to Bury Strangers, my favourite live band of all time, and Radiohead, and you just go and it's a whole different thing.
So I miss that because I'm not listening to music out loud at home very much. I will, with my kid, in the kitchen while I'm making dinner, but not at night, and I think that's why I've been kinda bummed and bored. I miss going out at night, having a pint and seeing a show, you know what I mean?
On watching virtual concerts
I can't do it. I don't like live albums, I don't watch live TV. . . . It's not the way I consume music. I don't watch videos on YouTube either. 

Because I have a 3-year-old I don't get to listen to music at night. I'm not a headphone guy. I like it engulfing me.
I remember we got the Bruce Springsteen live box set, which came out probably when I was 11 or 12 . . . and I remember (my dad) made us take the dogs for a walk, and we came back and we could kind of feel Pancake Hill quaking because "Hungry Heart" was blasting. He always had crazy stereo systems and really good speakers, and that's why to this day I like very good gear.
What he's listening to now
Well I'm still obsessed with Cherry Glazerr. . . . I'm back on Queens of the Stone Age. I've been listening to a lot of metal lately. And my daughter is into metal now.
New stuff? I'm trying to remember what I put on my Polaris (Prize) ballot. Doomsquad. Ice Cream.  
There was a band I was really excited about. A local band, no one knew them. So excited to see them play. All of a sudden they got amazing, and put out a wicked record.
I really like that Jessie Reyez record. That's really good. She's the real deal.
On the pandemic's bright side
There's going to be a lot of shitty, written-in-the-shadows pandemic albums.
That's a bright side?
Well, there will be a few good ones.

If you're brave enough to take a deeper dive into Ben Rayner's musical tastes (and sense of humour), crank this rather nihilistic playlist into your headphones. It admirably manages to veer from Joy Division to PJ Harvey to Roy Orbison and still make thematic sense.
But if you're looking for something a bit more summer weather-appropriate, while fulfilling your Can-con quota, dive into last week's announced shortlist of Polaris Music Prize nominees. 
And now watch this video of the Haim sisters competitively walking, just because.

Like what you see here? Click the little heart button and consider subscribing for free. Thanks for reading.