Discover more from Uncultured
Miss culture? Get Uncultured, your free ticket to pandemic entertainment. Get weekly news, interviews and Toronto culture tips in your inbox.
More horrific than fiction?
Andrew Pyper calms our fears with the assurance that "all houses are haunted."
Welcome to Uncultured, now in its eighth week of not knowing what we'll write about next. Tell your friends if you like it. Tell your enemies if you don't.
Spare some sympathy for the horror writers, will you?
How can they possibly concoct a tale as grim and despairing as the reality of 2020?
Wildfires. Locusts. Hurricanes. Widespread civil unrest. A city-levelling explosion. And, oh yes, a global pandemic that has capsized life as we know it.
On the other hand, the year has given them a lot of material to work with. Surely there's a race on right now, as writers rush to finish their "murder hornet" novels and screenplays. Oh wait, they're too late.
So I put the question to Andrew Pyper, the Toronto author of The Demonologist and many other books since: does real-life horror raise the ante for fiction? Has 2020 made it harder to do his job?
Nah.
Horror writing is "not necessarily about making the scary story scarier than what's out there, but making it shape our sense of what's out there," Pyper tells me in an email.
He's clearly taken his own words to heart with his latest book, The Residence, which takes something already "out there" — the White House — and makes it the scene of a vivid haunting.
But it's not what you think, despite catchphrases that are apt to trigger Trumpians.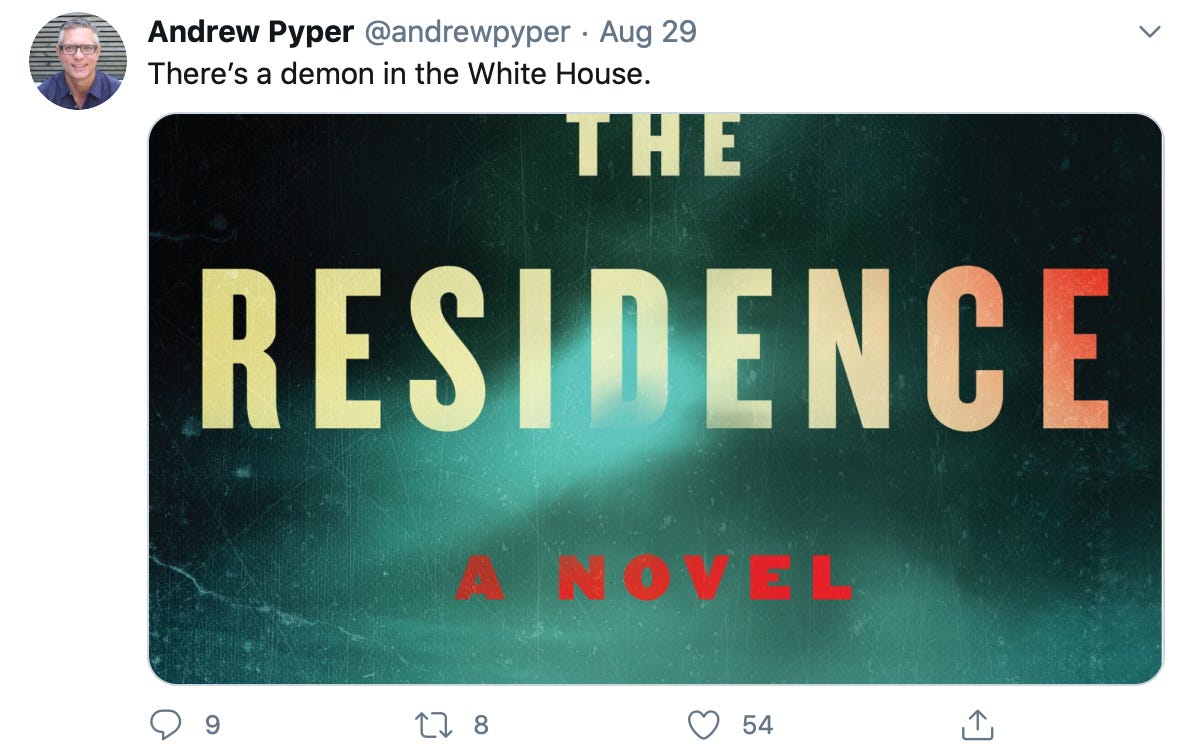 Pyper recreates the White House of 1853, and the administration of Franklin Pierce, the 14th U.S. president of an increasingly divided America in the years leading up to Civil War.
Pierce entered Washington on the heels of a personal tragedy: the death of his 11-year-old son Bennie in a train crash. So even before the arrival of anything supernatural, the official residence, haunted by Bennie's absence, becomes a place of mourning for Franklin and Jane Pierce.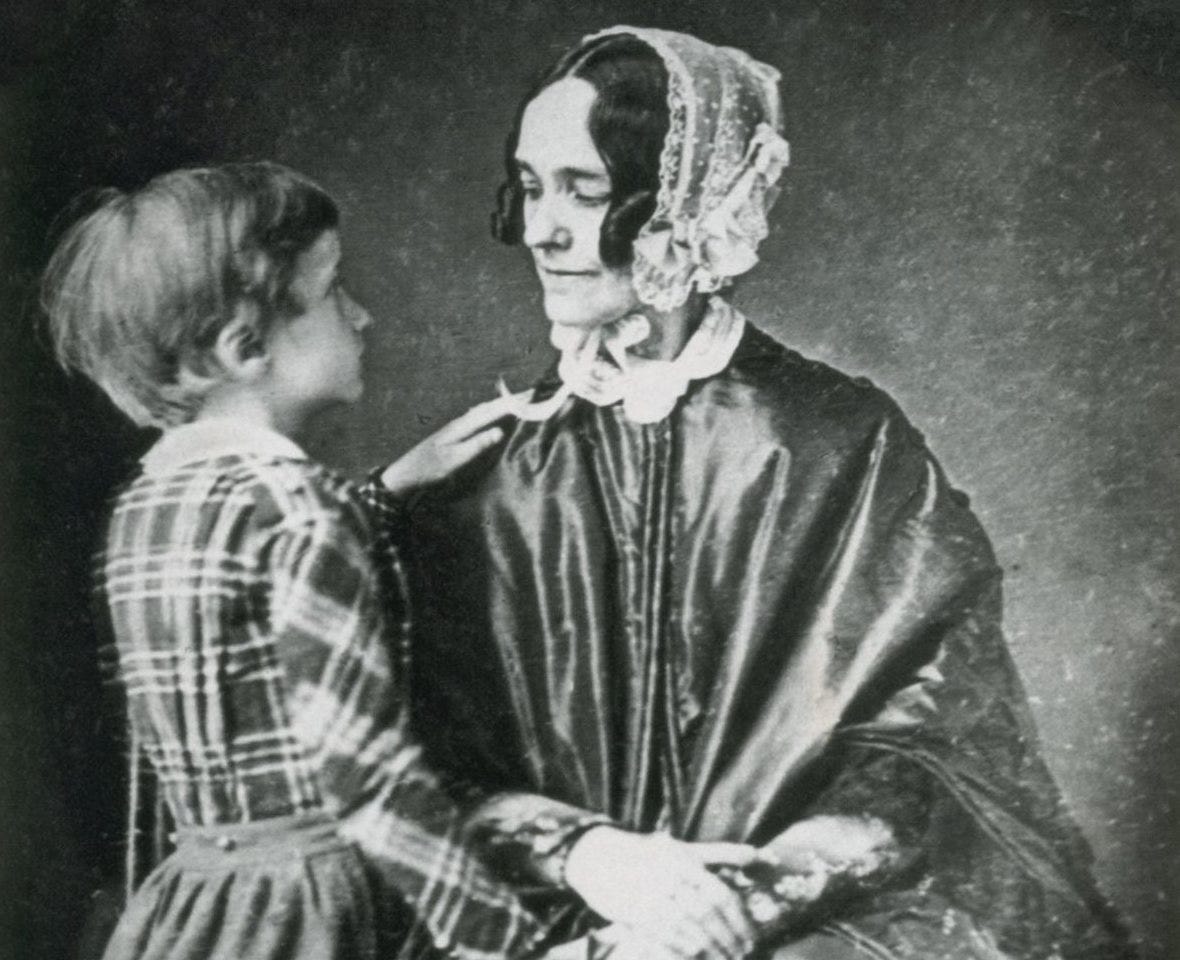 (photo of Jane Pierce and Bennie circa 1850)
It's a fertile setting for a work of historical fiction, with obvious allegorical connections to today's divided states of America, and Pyper takes the task seriously.
"The White House, now more than ever, is a powerful and contradictory symbol, so writing a novel about it demands clarity of purpose and restraint," he says.
Months before publication came the news that a "haunted White House" TV series, based on the book, is in the works, blending both scripted and documentary elements. Future seasons will explore paranormal events during later presidencies, "including those of Lincoln, Kennedy and Truman," notes the Hollywood Reporter.
Pyper took the time to answer a few questions for Uncultured, while gently refuting my naive theory that present horrors could put a horror author out of work.
From the pandemic on down, this has been a year of seemingly bottomless real-life horror. How does that affect the work of writers like you, who specialize in horror fiction?
I saw a study recently which showed that readers of horror fiction are better equipped to handle real-life stress and fear than others, and as a writer of scary stuff, this struck me as credible. Writing horror requires the daily weighing of one's fears and how they are changing, but it also involves a degree of play, which situates those fears within a (mostly) controllable space.

I'm certainly not immune to the anxieties of our current moment, but perhaps the work I do allows me to carry it better than others. 
In other words, how do you write when real life becomes more horrific than fiction?
There's always a "way in" to large-scaled horrors that open them up to new understandings or approaches. The personal. The intimate. The psycho-sexual. The marital. The familial. It's not necessarily about making the scary story scarier than what's out there, but making it shape our sense of what's out there.
I'm wondering if this is why you rooted your new book in a real-life tragedy, and in a place that still looms large in the American psyche, the White House.
I was initially fascinated by the story of the Pierces — President Franklin Pierce and his First Lady, Jane Pierce — before I saw the allegorical depths of setting a haunted house story in the White House. And once I did see all of that, the challenge became one of not letting the story become all about the historical/political context.
Are you worried about any backlash from the MAGA crowd who might not appreciate the suggestion of a "demon in the White House"?
I'm already seeing some of that, but of course these aren't the most tolerant or nuanced minds we're talking about here, so it's hardly surprising.
Can you say anything about the TV series that's in the works? When can we expect to get a glimpse?
We've been developing it over the summer and there's some promising traction now that I can't yet talk about, but I'm hopeful.
Could there be a Canadian follow-up? Any 24 Sussex Drive hauntings that you know about?
Not that I know of, but there's got to be. All houses are haunted. The interesting question, to me, is why the spirits present themselves to some inhabitants and not to others.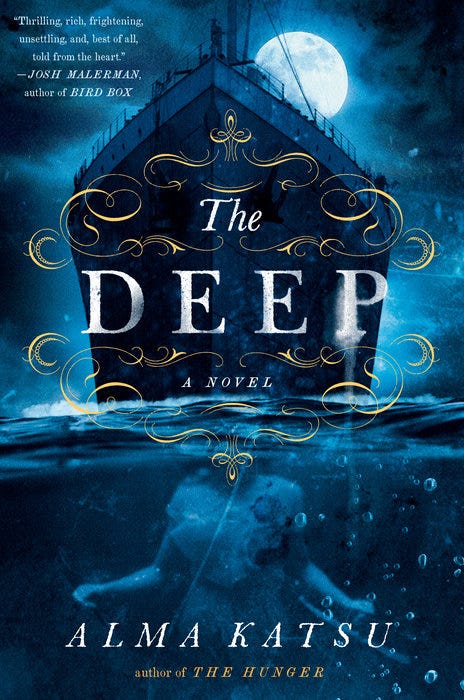 Besides
The Residence
, what else should we be reading right now? 
I'm reading The Deep by Alma Katsu (historical horror set on the Titanic) and a family read-aloud of Golding's Lord of the Flies.

Statues wearing masks, exhibit B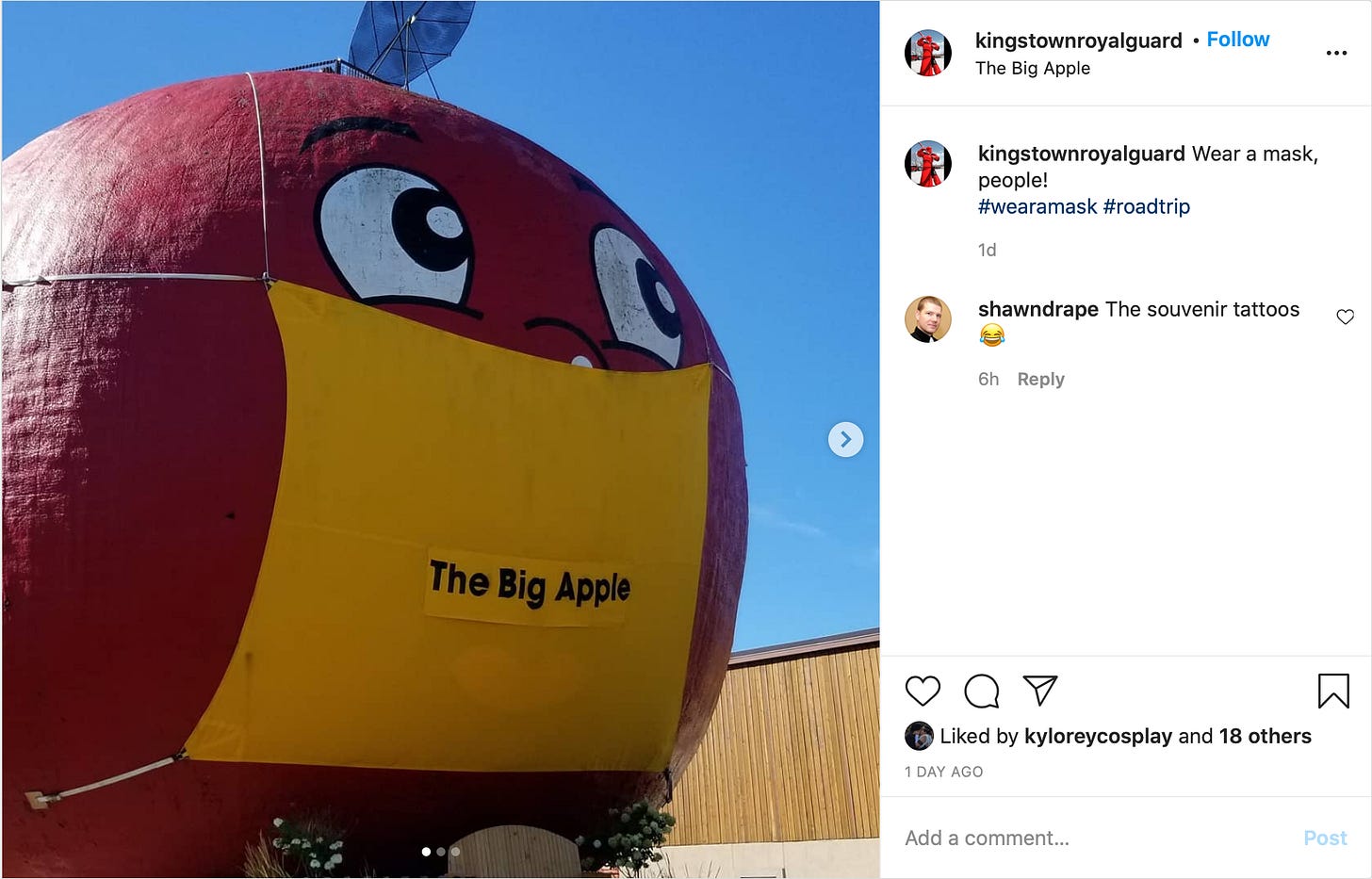 Masked Mac. The Big Apple in Colborne, Ont. A yellow tarpaulin gives the longtime 401 landmark some newfound fame.

Like what you see here? Send us an email with comments or suggestions. Follow us on Twitter or Instagram. And give life to that anemic 🤍 button below by clicking on it. See you soon.